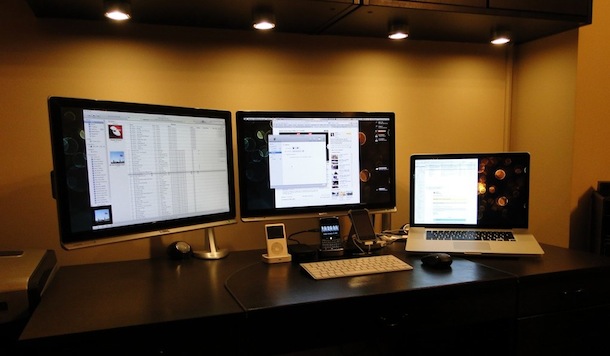 The latest iteration of the Macbook Pro are significantly advanced machines with Intel's latest i5 and i7 (on customized orders) processors. Being the ultimate mobility platform, these quality machines can very well support high performance tasks such as graphics, number crunching etc. Although the Macbook Pro's screen itself is great but then there are times where you would like to work on a bigger screen. Connecting your Macbook Pro to an external machine couldn't be easier. You just need a Mini-DVI converter to your choice of monitor input i.e., DVI, VGA etc. There are people who are just not satisfied with 2 screen solution (1 Laptop + 1 External monitor). In those cases you need more than just one converter cable.
In this post we are going to discuss one such scenario where a wintel desktop machine connected to dual 22″ Acer displays needs to be replaced with Macbook Pro. Before we begin, there are few things you need to know about the solution you are developing.
Macbook Pro Model & Generation:
Each iteration of Macbook Pro has a different hardware, which in the needs to be supported by the solution. You can find out about your Macbook Pro by going to Apple > About this Mac > More Info on the Top OS Menu. In my case its the following:
Model Name: MacBook Pro
Model Identifier: MacBookPro 5,3

This is a 5th Generation Macbook Pro with 1 Mini DVI port.

Screens and desired Resolution
Its very important to know about the hardware you have. In my case the screens are Acer X223W Q, each supporting 1680 x 1050 resolution.

If you haven't purchased your monitors yet, please make sure that the hardware you'll use to connect them supports the screen's optimal resolution. There is no point in viewing your mac in low res.

Screen Setup
Lastly, you also need to decide how are you going to use the extended desktop. Will your solution require you to have Macbook Pro screen active or would you use it without it? What and where you would like to things to appear? This will require some getting used to but trust me the extended real estate available, you'll just love it.
In my research I have found the following solutions, which doesn't mean this is it. There may be more solutions available now at the time you are reading this article. If possible check with the Apple Store / Genius Bar as newer products are released frequently.
Matrix DualHead2Go & TripleHead2Go
The Matrox uses your Macbook's Mini -DVI port (you'll need the Mini-DVI to DVI converter) to connect to 2 or 3 external monitors depending on your requirements. This is a good solution with minimal hardware addition you will need to get the task done. Most of the mainstream manufacturers are supported with different resolutions. The Matrox solution comes in multiple editions: Analog, Digital & DP edition, chose the right one that works for you. Please make sure to read the features of the Dualhead2go
($264) and TripleHead2Go
($300) products in detail before purchasing.
DIAMOND BVU195 USB Display Adapter (DVI and VGA with included DVI to VGA adapter)
In my case the problem with the Matrox solution was the resolution available on the screens was not supported. On searching I came across the USB solution from Diamond. It requires you to connect it to your Macbook Pro and connect the screen to to device. So for each monitor you will need one adapter. I would recommend also looking at buying a USB hub to save the USB ports on the Macbook. When connected each monitor is recognized as an independent screen and you can play with it as required. The Diamond BVU195 HD USB Display Adapter
is a good choice for multiple monitor solution, which is for around $74 each. Don't forget to download latest drivers from DisplayLink site. There is a great post on using Diamond BVU195 here.
Other viable solutions:
There are solutions available for the ExpressCard / 34 slot but Apple has decided that now only 17″ Macbook Pro's can only have them. If your Macbook has a ExpressCard / 34 slot, then please do look at ViDock 2 from Village Tronic. There is a great post by here about using this solution. Other products from Village Tronic are also good, do give them a look.
There is a also similar solution to ViDock from Magma called ExpressBox 1, which costs around $725.
Tritton technologies have SEE2 Xtreme, USB to DVI or VGA External Video Card
under $100.
Kensington also has under $100 product called Kensington K33928US UNIVERSAL MULTI DISPLAY ADAPTER
EVGA has to models available EVGA 100-U2-UV16-A1 UV Plus
($55) supporting 1600×1200 Resolution and EVGA 100-U2-UV19-TR UV Plus
2048×1152 Resolution ($84.5). Nice post here on using this hardware.
If you happen to own an iPad, Air Display ($10) turns it into an extra monitor.
… and there maybe other vendors too. If I've missed someone, please do mention in the comments.
Conclusion:
You know your budget and problem better than I do. The many possibilities discussed above will solve your problem. I would advise you to discuss the specifics from the store from where you are purchasing the equipment. Make sure the drivers are available for Mac. Try to buy from a store who accepts back your purchases.
Image via OS X Daily